(friends only)



I do make some public entries but for the most part they are private. If you want to read the good stuff, please comment to be added.
Please Note:+
I am over 21 years old
+
I do not often censor myself
+
I am involved in many fandoms and I talk about them a lot
+
I am very open-minded and liberal
+
I am opinionated, belligerent, and combative
+
I give respect where I am given respect, and for no other reason
+
I think dating is for chumps
+
I have issues
+
I make mistakes
If any of the above offends you, you might want to try making friends elsewhere.
___
For fandom schna -- fic, art, and icons -- go to
melospiza
Current Music:

Lovers- My Heart Never Sleeps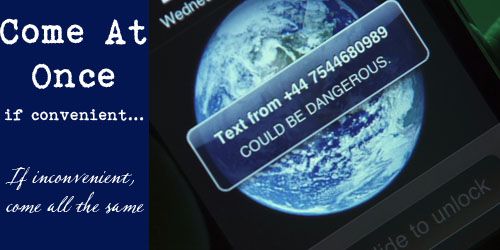 come_at_once
a Sherlock Holmes multi-verse fandom 24-hour porn challenge
sign-ups now open!
badsexfest
There's a lot of fic out there where the sex is technically perfect in every possible way. Consent is negotiated in contractual detail, one partner is able to anticipate everything the other partner likes without having to be told, and in the end, everyone orgasms at exactly the same time. Which is great (or can be), but isn't always what you want.

Sometimes, what you want is characters making mistakes, misreading a cue, or just screwing up, to hilarious or disastrous consequences.

This is here to fill that gap- where you can get your fix of all the terrible sex you've been looking for.
Tomorrow is the last teaching day of the school year. After that, we will have five days of finals before school is out for good. Woo!
Current Mood:

exhausted

Current Music:

Placebo - Special Needs
au: neighbors
secret relationship
kidfic
mistletoe kiss
au: apocalypse
road trip
au: cop / detective
accidental marriage
animal transformation
immortality / reincarnation
au: fantasy
alpha / beta / omega
FREE
★
SPACE
poker/strip poker
au: other
locked in
in vino veritas / drunkfic
secret twin / doppelganger
au: space
fuck or die
slavefic
fusion
time travel
genderswap
au: coffee shop

B - A pairing you initially didn't consider but someone changed your mind
C - A pairing you have never liked and probably never will
D - A pairing you wish you liked but just can't
E - Have you added anything stupid/cracky/hilarious to your fandom, if so, what
F - What's the longest you've ever been in a fandom
G - Do you remember your first OTP, if so who was in it
H - Do you prefer characters from real action series or anime series
I - Has tumblr caused you to stop liking any fandoms, if so, which and why
J - Name a fandom you didn't care/think about until you saw it all over tumblr
K - How do you feel about the other people in your current fandom
L - Your favorite fanartist/author gives you one request, what do you ask for
M - Your favorite fanart or fanartist
N - Your favorite fanfiction or fanauthor
O - Choose a song at random, which OTP does it remind you of
P - Invent a random AU for any fandom (we always need more ideas)
Q - A ship you've abandoned and why
R - A pairing you ship that you don't think anyone else ships
S - Show us an example of your personal headcanon
T - If you mostly have homoships, do you have any heteroships
U - If you mostly have heteroships, do you have any homoships
V - Are you one of those fans who can't watch anything without shipping
W - 5 favorite characters from 5 different fandoms
X - 3 OTPs from 3 different fandoms
Y - A fandom you're in but have no ships from
Z - Just ramble about something fan-related, go go go
A - Your current OTP

— Ray Bradbury
"Love. Fall in love and stay in love. Write only what you love, and love what you write. The word is love. You have to get up in the morning and write something you love, something to live for. … If you want to write, if you want to create, you must be the most sublime fool that God ever turned out and sent rambling. You must write every single day of your life. You must read dreadful dumb books and glorious books, and let them wrestle in beautiful fights inside your head, vulgar one moment, brilliant the next. You must lurk in libraries and climb the stacks like ladders to sniff books like perfumes and wear books like hats upon your crazy heads. I wish you a wrestling match with your Creative Muse that will last a lifetime. I wish craziness and foolishness and madness upon you. May you live with hysteria, and out of it make fine stories — science fiction or otherwise. Which finally means, may you be in love every day for the next 20,000 days. And out of that love, remake a world."